Day 1 photo of our project bike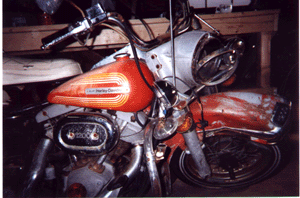 Here it is as I got it, front end smashed, rusty, one sorry sight. Can it be fixed, of course it can, have faith!
Stripped down to the basics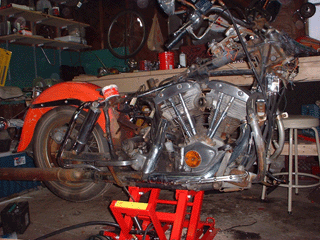 Already come a long way, but a long way to go. The further I get the more I find to do.
Dirt and rust holding it together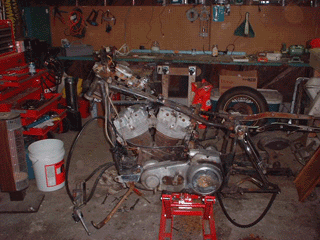 Just frame, engine, transmission and lots of grease, dirt and leaves. Oh yea, and some crusty old wires. All sitting on my new lift!
Yuck!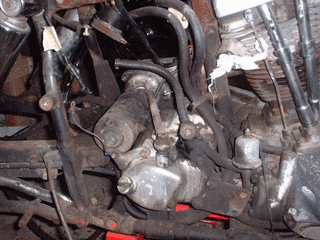 Think my wife would kill me if I put these parts in the dishwasher?
Comments - Links-- Email - Images
---
OK, I pick up a 1976 Electra-Glide for $600, a dream right? Right! Just needs a little elbo-grease and some good old fashion wrenchin'. So I call my buddies over, buy some beer and away we go...
Dec 21st, 2000
First we pull off all that front end damage. Looks like it's been in a major accident. The down-tubes are bent up bad, the lower tree is junk, lower legs may be salvagable. We took the headlight shroud off, what a mess of wires. I tried to label as many as I could but it's messy. I have to go get the shop manual! We have to hammer the fork tubes to get them out, I hope the top tree is OK. One of the studs in the lower fork leg is broken but it comes right out with an EZ-out. The damper rods are straight but they're really scratched up. I'm getting new ones. Headlight shroud is cracked. Front wheel and front fender are junk. Ok front end is off and out of the way.
Dec 23rd
We start trying to clean things up and see what's good and what's not. The read bumpers and light bars are really rusty and it looks like a monkey wired them. Off they go. The fiberglass bags come off the back (just pop off with 2 levers). The buddy seat comes off. I kinda like it but both me and my wife won't fit. Plus it puts me up too high. While taking it off I notice the monkey that did the wiring put the seat on too. With coat hangers?! I take the carb off and start cleaning that, we replace the oil cooler, remove the oil tank and some of the chrome covers to get to the gunk on the transmission. The battery box is a bitch. Those little rubber mounts are rusty as hell and I brake most of them off. Oh well, I'll get to that later. Tank come off too. Looks good inside! But the wiring under the tank is messy.
Dec 28th
The carb confuses me a little. It has a Keihin, but it's not the stock one. From the manual it looks like the 1978-198something. But I think the engine is a 1976. No matter, both carbs are strait forward, butterfly with excellerator pump. I spend about 3 hours cleaning it inside and out.
Dec 30th
So we get a little ahead of ourselves and go for some gratification. We breakout the polish and scrape a few layers off the rocker covers, polish the shocks, fender struts, anything that will shine. OH YEAH, my father-in-law (the guy who found this machine in the first place) bought me a bike lift for Christmas. So we're loving life, rolling the bike around. I have the thing a foot and a half off the floor. SWEET!
Now I think we'll get back to work.
Jan 4th
I did some sand blasting in a make-shift blasting box. Dust everywhere. I think I need to invest in a real blasting box if I'm going to keep sand blasting. I cleaned up the battery box. Lots of rust from a leaky battery. Not like new but it will look fine once I paint it. I took the front calliper apart and started to follow the "overhaul" instructions in the Climer manual. Says to use compressed air to blow the piston out of the calliper. I figured out that one of the air fiting I have threads into the hole, but 100psi isn't enough to push the piston out!? I'm going to have to force it out with a master cylinder and brake fluid, but the front brake line was torn so that will have to wait. The rear calliper and rotor look 100% worse than the front. I'll need a new rear rotor and wheel. The parts list just keeps growing.
Jan 28th
It's been a while. Since my last entry, the fender got removed, the exhuast is off. I took the engine guard (crash bar) off. All the floor boards are off. The rear wheel is removed. OH and I decided this is going to be a long term project. I previously was thinking that I wanted it on the road by summer, but I think I can save a ton of money and do a better job if I use the summer to work too. That will give me an oppertunity to check the swap meets for used parts. So I'm on my way to removing the engine. Here's where we are now: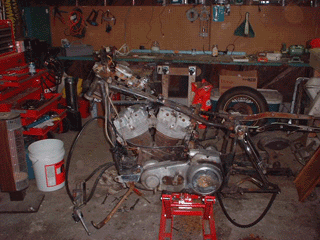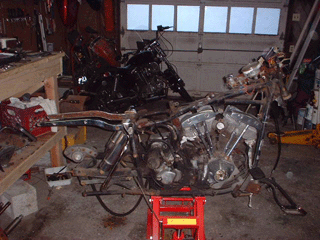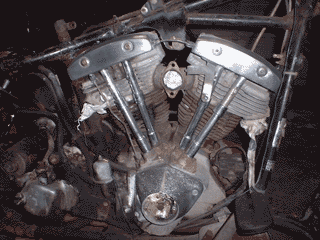 Some things I noticed today: The front brake light switch was rattling around inside the control and the wires were stripped and taped together to keep the light off. I'll definately need new points too. The wiring is starting to get me down. I wired a '71 Sportster from scratch and it was a pain in the ass. This machine has about five times more wiring that the Sporty. I'l salvage as much as I can but there are so many broken wires, wires going nowhere and cracked insulation. Guess I'd better buy a few spools of primary wire.
NEXT